Personally, I am clinging to summer with a death-grip.  But I suppose it's time to face facts… Fall is rapidly approaching!  To celebrate Fall style, Raging Rouge will be publishing a feature each Friday in September about products that will help you achieve the look that is Fall 2007.  Welcome to feature #1!   
The easiest way to embrace Fall 2007 beauty trends is a simple change of lip color.  The red lip, my personal favorite Fall beauty trend, is perhaps also the most intimidating for those used to seeing their lips dressed in a glossy pink.  Do not fret!  There are options for everyone this Fall.  Read on!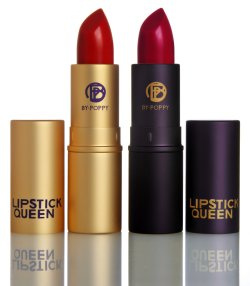 What collection of red lipsticks would be complete without Poppy King's creation, Lipstick Queen? Without question, Poppy knows lipstick.  Ten dramatic opaque "Sinner" shades and ten watercolor-sheer "Saint" shades satisfy even the most demanding beauty aficionado.  I'm a sinner, and this fall my indulgence is Lipstick Queen's intoxicating Wine shade.  Lipstick Queen retails for $18 at Barney's and other fine retailers.
Chanel Rouge Hydrabase Creme Lipstick wears extremely well, even in the face of obsessive coffee drinking!  This lipstick applies smoothly, and resists feathering.  Lotus Rouge is a brick red shade that imparts urban sophistication.  Chanel Rouge Hydrabase lipstick retails for $25 at Macy's
and Nordstrom
.
Jane Iredale and Sarah Jessica Parker go way back… thus Jane selected the name "Carrie" for this sassy red shade of her PureMoist LipColour, paying homage to SJP's character in the HBO series Sex and the City.  As a fan of the show I must confess this sexy lush shade of red reminds me more of the brazen Samantha.  PureMoist LipColour by Jane Iredale can be purchased at Jane Iredale Direct for $19.
Benefit Cosmetics Silky Finish Lipstick in "Frenched" is part of the Betty Look makeup collection.  This delicious cherry-red shade provides sheer color that the experts at Benefit describe as "buildable".  Apply one coat for a sheer stain of red, or multiple coats for a darker shade.  Silky Finish Lipstick retails for $16 at Benefit Cosmetics, Macy's
and other fine beauty retailers.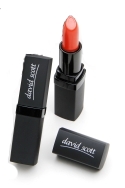 David Scott, founder of the Makeup Lounge in Toronto, will soon launch the David Scott Collection here in the USA.  A collaboration with top chemists and his own clients, David's current lipstick collection contains 40 high-pigment long-lasting shades.  His traffic-stopping "Orange-Red" lipstick is the glamorous shade worn by every fearless fashionista this fall, and the formula is enriched with grapeseed oil and natural minerals to keep lips kissably soft.  Snag one for $26.95 at the David Scott website (under construction at time of publication)!
Lip liner is crucial when wearing dark lip colors.  When red lipstick bleeds into the skin surrounding the lips, it accentuates fine lines, adding ten years to your appearance.  Benefit's D'Finer D'Liner keeps dark lip color in check, and the colorless formula ensures you can wear it with the lipstick of your choice.  D'Finer D'Liner retails for $18 at Benefit Cosmetics and other fine beauty retailers.
Like what you just read? Be sure to head to the Raging Rouge Beauty Blog homepage for more makeup reviews, product swatches and beauty news.