Budget-challenged this holiday season? The Burt's Bees Holiday 2010 collection is available to please your loved ones, while saving your wallet!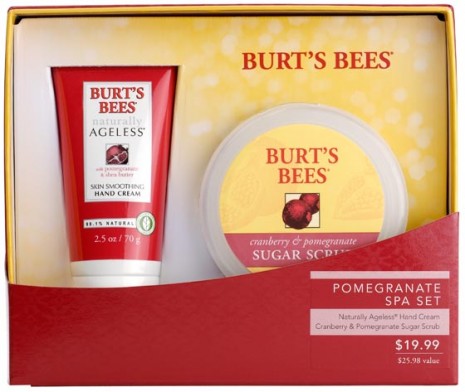 I am–seriously–a jaded consumer.  Despite that my bathroom is cluttered with product, I went positively nuts for the Burt's Bees Pomegranate Spa Set.  With a retail price of $19.99, this set includes two zesty cranberry/pomegranate scented products.  The Sugar Scrub is now one of my all-time favorite body scrubs.  Cranberry seeds are used to exfoliate, and pomegranate oil is used to moisturize.  The Naturally Ageless Skin Smoothing Hand Cream has been my partner in crime.  It repaired my cold-weather tattered hands in only one night, when paired with moisturizing gloves.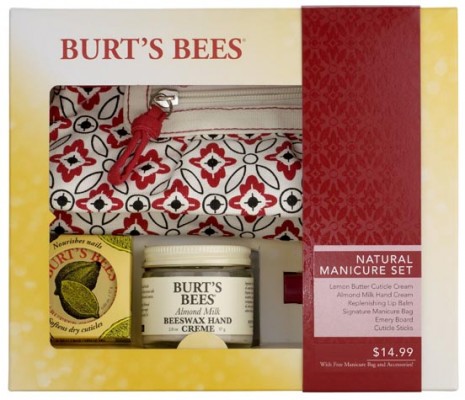 How do I know it's winter?  When my already-dry hands start to crack and bleed.  This happens to me at least once per winter season, and yet I always seem to forget that my hands need extra attention.  The Burt's Bees Natural Manicure Set includes super-portable pampering products for the hands.  The lemon butter cuticle cream can literally be fit in the pocket of your jeans, and the almond milk beeswax hand creme is an extremely rich hand cream.  Use it sparingly during the day for a quick moisutre-fix, or as an overnight treatment, worn with a pair of moisturizing gloves.  Retail price is $14.99.
Are these Burt's Bees gift sets still too pricey?  Don't fret.  Click HERE to head over to BurtsBees.com.  They have a lengthy gift guide for those with budgets of $10 and under!
The author of the Raging Rouge Beauty Blog received press samples for purposes of this makeup review / product review.  For more information on sample policies, please click HERE to read my full disclosure statement.