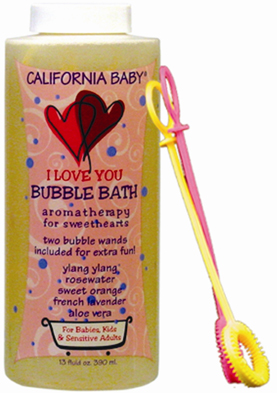 Your baby's sensitive skin needn't mean skipping the fun of a bubble bath, but many formulas available contain ingredients that irritate the skin of sensitive babies. Luckily, California Baby's Aromatherapy Bubble Bath formula is as gentle as their body wash, and comes in both scented and fragrance free versions.
If your baby is normally sensitive to fragrance, don't despair. The scents offered by California Baby are fueled by essential oils, not synthetic fragrances. So even sensitive babies (like mine) can handle it. This product is also free of Sodium Lauryl Sulfate and DEA, ensuring it's extra gentle for sensitive skin.
I love the scent choices so much, I can actually see buying these for years to come, even for my own use! The current collection includes: Calming (a French Lavender scent to induce sleep), Overtired and Cranky (tangerine, sweet orange and chamomile), Light & Happy (a personal favorite- a citrus blend that lifts the spirits), Colds & Flu (Douglas Fir and Eucalyptus– great for congestion), Chamomile & Herbs (Geranium, Sweet Orange and Chamomile) and I Love You (Ylang Ylang and Sweet Orange).
I recently sampled the "I Love You" fragrance with my little man, and loved the delightfully invigorating sweet scent. Nothing says "I Love You" more to a toddler than allowing bubble-blowing fun during bath-time with the two bubble blowing wands included in each bottle.
A 13 oz. bottle of California Baby Aromatherapy Bubble Bath retails for $12.50. A portion of the proceeds from sales of "I Love You" products are donated to Breast Cancer Research Programs! Click HERE to check it out at California Baby website.