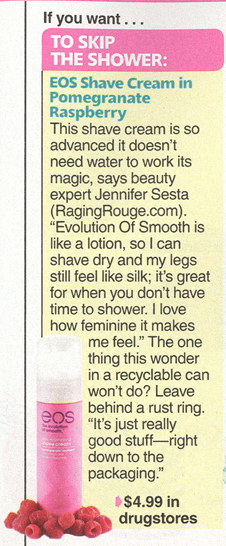 It's pretty rare for me to revisit past reviews on Raging Rouge, but today I'll be making an exception.  Why?  A few weeks ago, I was contacted by Women's World magazine to provide a product idea for women in search of the best shave gel.  My very first appearance in the mainstream media!
It's didn't take long for me to make my selection for the publication.  I originally wrote about EOS (the Evolution of Smooth) in January (click HERE to read my original review).  I've been using this product regularly ever since.
To think I once used my husband's manly-smelling shave gel!  EOS has yummy options like Pomegranate Raspberry (my original addiction), Vanilla Bliss (my latest acquisition) and Island Blue (likely my next purchase).  The formula is so amazingly moisturizing, you can skip post-shower lotion if you're in a hurry.  In fact, you can even skip the shower entirely!
Retail price varies by retailer, but EOS shave cream generally retails for under $5 per bottle.  A screamingly good deal for such a terrific shave!
Click HERE to buy EOS shave cream at drugstore.com
Don't forget to grab yourself a copy of Women's World!  My issue will be on newsstands until July 13th… (check out page 33).  I had a blast reading the rest of the magazine, too.  Great shopping, cooking and craft ideas abound, ladies!  There's something for everyone!
To see a scan of the entire article, click the image at left.