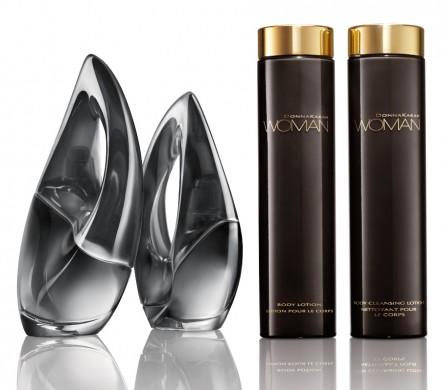 At my age, I've had the delightful opportunity to see trends come, go, and then come again. Fragrance is a great example of this. When I was coming of age in the 80s, popular fragrances were seductive and mature.  Even as a 14-year-old, I was dipping into brands intended for much older women!  And nothing… nothing… smelled like a cookie, or a candy, or food of any kind!
Donna Karan Woman Fragrance
Then things changed for a while, and we all seemed to suddenly be foodies.  Sugary scents were everywhere, and the sexy spicy fragrances were temporarily shelved.
Today, things seem to be moving back to sexy-town.  Donna Karan's latest fragrance "Woman" captures this scent trend in a shapely bottle!  Perfumer Anne Flipo teamed up with Donna Karan to formulate this spicy, sultry olfactory delight. Notes include Orange Flower, Haitian Vetiver and Sandalwood. Think you can't get back into real "perfume" again? Grab a tester of Woman from your local department store. It's quite captivating!
Retail prices are:
Donna Karan WOMAN 3.4oz Eau de Parfum: $115
Donna Karan WOMAN 1.7oz Eau de Parfum: $85
Donna Karan WOMAN Body Lotion, 6.7oz: $50
Donna Karan WOMAN Body Cleansing Lotion, 6.7oz: $45
Woman can be purchased at Bergdorf Goodman, Bloomingdales, Neiman Marcus, Nordstrom or Saks Fifth Avenue.
The author of the Raging Rouge Beauty Blog received press samples for purposes of this makeup review / product review. Some of my beauty reviews also contain affiliate links. For more information on sample policies, please click HERE to read my full disclosure