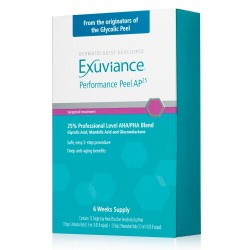 I wrote eons ago about a facial peel by Exuviance that helped rid me of acne scarring and bumpiness along my jawline.  Well, recently Exuviance launched something even more hard-core!  The Exuviance Performance Peel AP25 contains a 25% level of active peeling ingredients (alpha hydroxy acids, polyhydroxy acids, glycolic acid, mandelic acid and gluconolactone).  The gang's all here!
In this blogger's humble opinion, Exuviance skin care products are some of the best available when it comes to dealing with skin woes.  God only knows I sampled dozens of different products before, only to be utterly disappointed.
Using this at-home peel is super simple.  After testing a small area of skin–to ensure you won't be irritated–just follow these instructions:  First, remove makeup.  Then, wipe an Activator Pad over your entire face.  Wait for 10 minutes (unless you experience discomfort) and then wipe a neutralizer pad over your entire face.  It's that simple!  Each pad is individually packaged, making them extremely totable for travel, or even if you want to do the treatment at the gym!
12 peels (a 6 week supply) retails for $60.  It's apparently the highest concentration of these ingredients available outside of a doctor's office!
Click HERE to check out the product at NeoStrata.com.