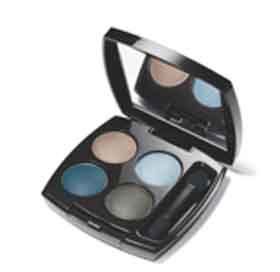 What eye makeup would Lois Lane use for a hot date with Superman at his icy Fortress of Solitude?  Most certainly Avon's True Color Eyeshadow Quad in Textured Teal!
Textured Teal is a fairly new addition to the Avon color collection, introduced in Fall 2009 as part of "Tribal Teals".  Though Fall slowly morphed into Winter, this quad is still extremely relevant.  Packed with cool, snowy blues an icy gray and ashen taupe, the palette of colors resembles a snow-scape on a clear day.
The price tag of this palette is as compelling as the colors!  The true color eyeshadow quad is a mere $8!
Click HERE to shop Avon's True Color Eyeshadow Quad collection.
The author of Raging Rouge received press samples for purposes of this makeup review / product review.  For more information on sample policies, please click HERE to read my full disclosure statement.