Father's Day Gift Guide 2018

Sigh. My father in perpetuity said "I don't want anything!" He also didn't need anything, which made shopping for Father's Day gifts that much harder! If your Dad is deserving, but also impossible to shop for, please refer to my Father's Day Gift Guide 2018 edition! I started the process early this year, to ensure I wrote a guide that includes father's day gift ideas to fit any budget!
Top Father's Day Gift Ideas 2018, For Skincare Lovers
One of my favorite things to do is give a gift that the recipient wouldn't normally buy for themselves. I've gifted my husband with skincare products many times over the years, and while he generally wouldn't splurge on high-end skincare, he's always appreciated the gift! This year, I want to point you in the direction of Murad Man products. This line includes products the Dad in your life will actually use, like the brilliant Cleansing Shave… which is actually a shaving cream that deep cleans the pores (and makes his face feel baby-smooth)! Add in an essential Razor Burn Rescue treatment and the fast-absorbing lightweight moisturizer Face Defence SPF 15. Dad will have a wonderful assortment of treats to greet him as he gets ready for his day. Best of all, if you buy ALL THREE you get 20% off the bunch!
Retail price for Murad Man regimen, $75.
Great Fathers Day Gift Idea 2018, For Eco-Conscious Dads
If Dad is greener than the average guy, you should be sure to buy him a Father's Day Gift from Pangea Organics. An especially awesome (and economical) choice is their bar soap. Not only is the packaging made from 100% post-consumer paper, but organic seeds that are plantable! Don't recycle the package, just soak the box in water for a minute and plant it!
The formula is gentle and moisturizing, and retail is a mere $8 per bar.
Fathers Day Gift 2018, For Dads Who Love Fragrance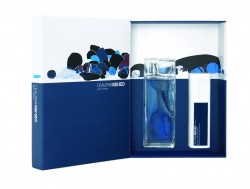 Kenzo Eau Par Kenzo Pour Homme Father's Day Gift Set is an awesome splurge for the strong, silent type. The scent is citrusy and sensual, and the price of this gift set is the price is exactly the same as buying a stand-alone 3.4 oz bottle of fragrance. It's like getting the full-sized shower gel for free! Retail price is $72.
Fathers Day Gift Guide 2018, For The Dad Who Is Impossible To Shop For
My Dad has always been impossible to shop for. This Sephora Favorites Collector's Edition Fragrance Sampler for Him is great when you simply can't decide on a gift. This men's fragrance set contains deluxe trial-sized bottles of these bestselling scentsL Givenchy Play Eau de Toilette, Hugo Boss Hugo Eau de Toilette, Jack Black Protein Booster Skin Serum, John Varvatos Vintage Eau de Toilette, Lab Series Skincare for Men Max LS Age-less Face Cream, Lacoste Essential Eau de Toilette, Paco Rabanne 1 Million Eau de Toilette, and Versace Pour Homme Eau de Toilette. The retail value is $155, but the retail price is $75! Dad can use and sample this plethora of product at his leisure, and when he's ready to commit to one scent, he can redeem the enclosed voucher for a full sized version of his favorite. LOVE the Sephora scent sampler, for anyone, and any holiday!
The author of the Raging Rouge Beauty Blog received some press samples for purposes of this gift guide. For more information on sample policies, please click HERE to read my full disclosure statement.