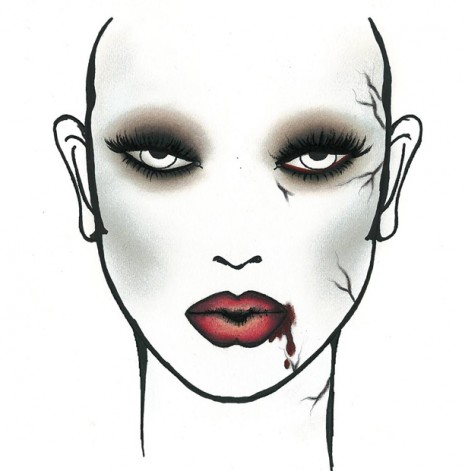 Here at Raging Rouge, Make Up For Ever's Jessie Powers is officially a friend of "ours". She's a talented and creative makeup artist, to be certain, but her skills as an educator elevate Jessie to legendary status! Who could possibly forget her super-simple to follow Liquid Liner application tutorial? Make Up For Ever has recognized Jessie as the educator she is, appointing her as National Educator.  Today, Jessie shares an amazing Halloween makeup idea for those of us still stumped!
HALLOWEEN MAKE UP: GLAM-PIRE
SKIN
1) Start by mixing HD Microperfecting Primer #5 with a pale shade of HD Invisible Cover Foundation and apply to the entire face.
2) Using the white shade from the Flash Color Palette, highlight the center of the forehead,
cheekbones and brow bone.
3) Sculpt the face using Eye Shadows #127 and #82 on the cheeks and temples.
4) Dust Star Powder #942 over the entire face.
EYES
1) Rim the lash line using Aqua Eyes #0L in black, and then smudge the liner on the lids. 2) Apply Diamond Shadow #307 to the lids.
3) Sculpt the crease using Eye Shadows #76 and #139
4) Apply Faux Lash #209 and Smoky Lash Mascara in Black.
5) Finish by rimming the inner eye with Aqua Lip #8C to create a bloodshot effect.
LIPS
1) Line the lips using Aqua Eyes #0L, and then add Rouge Artist Intense #42 on top.
2) Finish by highlighting the lips with Star Powder #902.
EFFECTS
1) To create blood effects on the face, mix red lipstick and clear lip gloss together apply to the mouth using a thin eyeliner brush. Apply as desired to other areas.
2) For veins, lightly draw tree branch looking lines using Aqua Eues #11L, then add accents and discoloration using Aqua Eyes #12L and smudge to blue the lines. You can use the veins on the inside of your arms as a reference.
You can shop for Make Up For Ever products at Sephora.com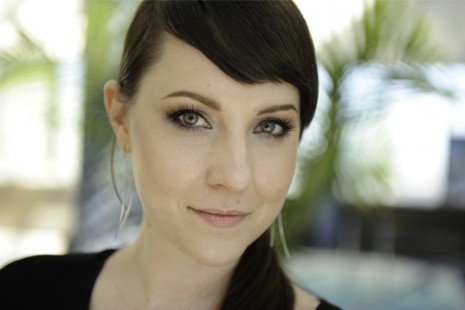 JESSIE POWERS
National Educator
Born and raised in Portland, OR, Jessie was drawn to beauty at a young age and used to mix her  own make up concoctions using a chemistry set she received as a gift.
Jessie has been with MAKE UP FOR EVER since 2000, and was recently appointed role as National Educator for the brand.
Jessie's make up philosophy is simple: "Do what makes you happy and keep your mind open to all possibilities. If you want to wear red glitter at age 80 – you should. Make up is transformative and powerful but it can also be frivolous and fun."