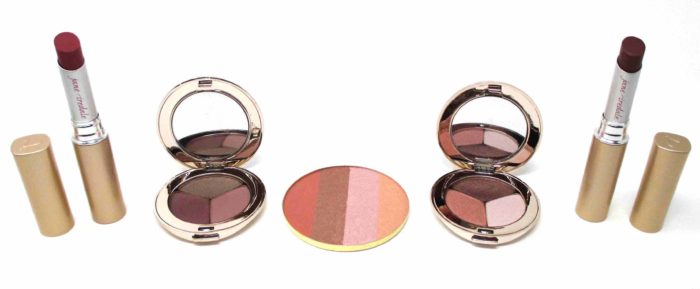 I'm so over the top mad about the Jane Iredale Spring 2017 color collection, that on a recent trip I packed most of these items to accompany me.  After only testing them out for a few days, I couldn't bear to leave home without them!  To me the collection is like a basket filled with spring flowers.  Peach, pink, poppy, and violet are all represented and anchored with some tried-and-true neutrals.  I dare you to not be enchanted!
Jane Iredale Spring 2017 Makeup Collection
Designed to be slipped into your Jane Iredale PurePressed Compact, the Jane Iredale Peaches & Cream Bronzer refill has four shades of fabulous that can be used stand alone for some strategic contouring and highlighting, or swirled together to create the most incredible peachy bronze glow!  Retail price is $44.
The collection introduces two new PurePressed Eye Shadow Triples where youthful pinks and peaches steal the show!
Jane Iredale PurePressed Eye Shadow Triple in Pink Quartz is swatched above.  A frosty peach, medium neutral, and pale pink are included.  I'm loving this trio for daytime wear. Retail price $30.00.
Jane Iredale PurePressed Eye Shadow Triple in Soft Kiss is swatched above.  A deep brown, sultry plum,  and dusky rose are included.  This trio is perfect for date night!  Retail price $30.00.
Two new Jane Iredale PureMoist Lipsticks have made their debut in this collection!  At left above is Susan, a medium pink.  At the right is Lisa, a bold earthy brown.  Each applies semi-sheer but is buildable for more color impact.  They feel simply fabulous on the lips… so moisturizing and decadent!  Retail price $25.
Finally the Jane Iredale In Touch Cream Blush in Candid is a medium neutral shade with peachy undertones.  Retail price is $28.
Click HERE to shop this collection at  JaneIredale.com!
The product in this review was a press sample. Please click HERE to read my full disclosure.