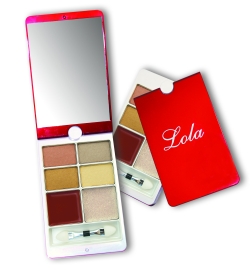 Ladies, ladies, ladies! Mark your calendars now… in mid-October, Lola Cosmetics will release its 2007 holiday collection. These luxe palettes can NOT be missed!
I had the honor of previewing these palettes recently, and I'm still giddy. Lola's new "Joy" laptop colors are a collection of metallic shadows, a brick red gloss and a clear gloss with a golden shimmer. I applied each shadow in a haphazard manner to test the colors and was floored that despite my imprecision I still looked holiday-party ready. The shadows are extremely high-pigment, and glide smoothly onto the lid. The gloss shade is an excellent compliment to the eye color: a decadent brick red that can also be applied lightly to look more like a stain. Top it off with the golden shimmer gloss for show-stopping New Years Eve lips.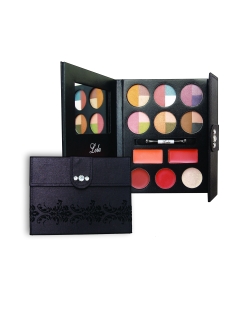 Lola's holiday season Spellbound Color Clutch contains 18 shades of shadow (you read that right– 18!) conveniently organized into 6 color-coordinated trios to make selecting colors a snap. The shadow colors included range from white to deep gray, some matte and some sparkling. Three nourishing gloss shades (with a hint of mint), two creme blush colors to enhance your cheeks and a generously-sized mirror make this elegant palette all you'll need for the boardroom or the ballroom.
Lola Cosmetics Laptop in "Joy" will retail for $36. Spellbound Color Clutch will retail for $38. Retailers include Sephora.com
, Ulta and other fine beauty stores.