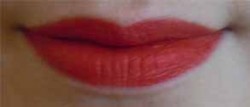 I recently had the fun opportunity to sample the latest by Make Up For Ever.  The recently launched Aqua Cream is a collection of rich, creamy, high-pigment formulas for use on eyes, cheeks or lips.  Appropriately, Raging Rouge was sent a pot of #8,  the rich shade of red pictured in this post.
First, I tested Aqua Cream on my lips.  #8 imparts a matte January Jones (ala Mad Men) type of look, but with a modern metallic edge.  Think 2010 style with a hat tip to the 1950s.  It's an extremely glam shade of red.  Aqua Cream also passes what I refer to as the "Seattle coffee test".  In fact, the swatch shown in this post was taken AFTER I drank a large cup of morning java.  The color is still flawless! 
Considering the bright shade, I was a bit hesitant to test this product on my cheeks.  But providing that you show restraint–and apply the product minimally to your skin–it delivers a healthy, rosy glow.  Remember… do not apply this product liberally, thinking you can wipe it off.  Apply a little at a time, building up the color until you achieve the desired result.
Available in 21 shades for eyes and cheeks, I am dying to sample more shades from this lineup.  After reviewing swatches of the full collection, numbered 1-18 and 20-22, my curiosity is piqued… what happened to mysterious shade #19?
Retail price is $22 per jar.
Click HERE to buy it from Sephora.com
The author of Raging Rouge received press samples for purposes of this makeup review / product review. For more information on sample policies, please click HERE to read my full disclosure statement.