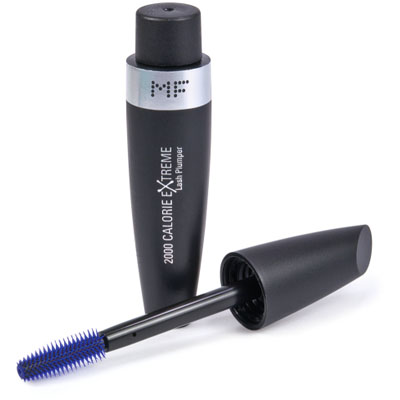 Mascara generally has one of two goals: 1) Lengthening short lashes, or 2) Adding volume to sparse, thin lashes. To address #2, MAX Factor offers 2000 Calorie Extreme Lash Plumper Mascara!
This mascara makes your lashes, fat, Fat, FAT!  It also utilizes a patented Fat Wrap Brush. This thick, spiky applicator is a favorite of mine. It grabs every lash last and keeps them separate while applying the mascara (read– no clumping!)
Regular and waterproof options are available.  Shades include:  Extreme Blackout, Black Velvet and Blackest-Brown.
Suggested retail price is $9.98. This mascara can be purchased at drugstore.com
and Ulta.com.
Like what you just read? Be sure to head to the Raging Rouge Beauty Blog homepage for more makeup reviews, product swatches and beauty news.