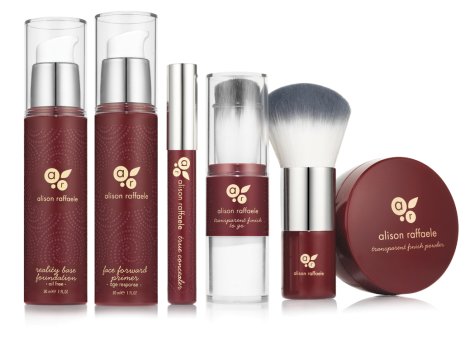 By now, Alison Raffaele has most certainly added to her newly launched "naturally inspired beauty" products. The first of the bunch certainly made a great impression on me!
Alison Raffaele got her start in the beauty business working for Bobbi Brown. Despite having access to any beauty product on the market, she couldn't find a concealer of high enough caliber to cover dark under-eye circles, including her own! It was precisely this beauty dillemma that led Alison to launch her own line in 2000.
Now, in 2008, Alison Raffaele is launching new products while simultaneously giving some old favorites a makeover. The Alison Raffaele organization is committed to using natural ingredients whenever possible, in both product and packaging. This re-invention process will happen in three phases, the first of which is a reformulation of Alison Raffaele True Concealer, Reality Base, Transparent Finish and the tools that go with them.
Alison Raffaele products have always been free of mineral oil. But the updated formula has also removed talc and parabens from the product, and added a proprietary anti-oxidant complex of Pomegranate, Goji Berry and Resveratrol extracts referred to as "Frutta di Vita." The sexy packaging redesign is even environmentally conscious! Whenever possible, packaging is created from recycled, recyclable, or biodegradable materials. All secondary packaging is 80% post-consumer waste or greater.
I had the opportunity to sample both the Face Forward Primer in Age Response (a new launch), and the newly formulated Reality Base Foundation. Face Forward is simply amazing! This Alison Raffaele foundation primer has an SPF 15, and quickly (I mean lightning fast) dries to a matte finish on the skin. Foundation wears beautifully when applied over it, lasting longer, looking smoother and staying put. I love this product so much, I'd even use it as a matte sunblock on days I choose to skip foundation!
Alison Raffaele Reality Base Foundation is housed in a lean pump-styled bottle. The first time I applied Reality Base, I dispensed four pumps of product into my hand. WAY too much. The second time, I pumped twice. STILL too much! Turns out, I am able to get full coverage out of this foundation using only one pump. The updated Reality Base formula blends so beautifully, you simply don't need as much foundation as you would normally use (which is a victory in itself, isn't it)? Take into account the removal of potentially harmful ingredients like parabens and the addition of natural ingredients that help the skin thrive, and it's tough to not declare this foundation a winner.
Face Forward Primers (age response and Acne Response) retail for $44. Reality Base Foundation retails for $38. If you're in the market for paraben-free, talc-free, mineral oil free, gluten-free and fragrance-free, keep your eye on the ever evolving selection of Alison Raffaele! The new products should be available online by March 3rd. Click HERE to head over to Alison Raffaele online!