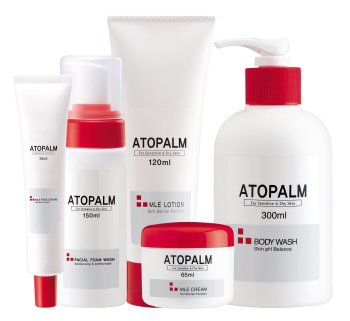 Ever heard of ATOPALM Skincare? Don't worry… I hadn't either. But please, allow me to introduce the two of you. Now that I've sampled ATOPALM, this product is officially a friend of "ours" here at Raging Rouge.
Facial Cleanser Foam Wash: An extremely gentle facial cleanser, ATOPALM Facial Foam Wash is dispensed from a pump already foamy. It's like a bubble bath for your face! Specifically designed to maintain the skin's pH balance, this cleanser is amazingly effective as well as good for the skin.
MLE Face Cream: This moisturizer works to not only moisturize your skin, but to replenish the skin's natural defenses. What better way to heal dry skin, than to help it heal itself?
MLE Cream: For tough-to-soften areas like elbows and knees, ATOPALM MLE Cream is a concentrated formula to give extra attention to super dry skin. I was astonished by the quick results my skin enjoyed when I started to use this gem.
Body Wash: Soaps are so drying and damaging… ATOPALM's body wash maintains skin's pH balance (as the facial foam wash does). Calming herbal Rosemary and Lavender scents even help to soothe irritated skin.
The entire ATOPALM line is specifically designed to be used by those with the most dry and sensitive skin (including conditions like Rosacea and Eczema). Looking to streamline bathroom clutter? Most of these products are fragrance free, and those with fragrance don't smell girly at all. This entire skincare line is ideal for either a man or a woman.
Check out SkinStore.com for a full line of ATOPALM products!