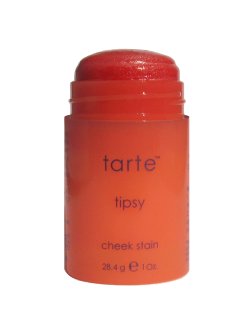 A glass of wine can have the most delicious side-effect on the cheeks. That gorgeous shade of buzz we all admire has been captured masterfully by tarte cheek stain, in Tipsy. This pink shade has warm undertones, and leaves skin looking youthful, rosy and utterly glowing. What a perfect product to use this Spring!
Upon sampling tarte cheeck stain, I couldn't help but check out the entire selection of tarte Cheek Stains. Turns out, cheek stain this is tarte's most popular product… and it shows in the selection. You can choose from among 10 different shades of this glorious gel! I'm dying to sample more… the color is amazingly long lasting and natural looking. It's quickly become a favorite.
Lest I forget, these water-based gel sticks are also scented! Tipsy smells like fresh apricots. Yum!
Full-sized cheek stains by tarte retail for $28 at Sephora and tarte. But a deluxe-sample size of Tipsy also happens to be included in tarte's Ready, Set, Glow Kit, sold exclusively by Sephora.
Click HERE to grab a full-sized tarte Cheek Stain in Tipsy at Sephora
.
Click HERE to check out tarte Ready, Set, Glow Kit ($94 Value) at Sephora.
Click HERE to snag a tarte cheek stain at Beauty.com.
Click HERE to check out tarte cheek stain at tarte, and "how-to's" for product use!