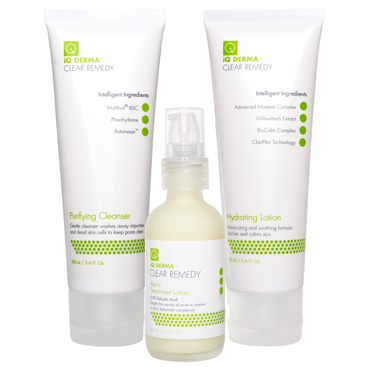 The 30s are an incredibly frustrating stage of life.  On the one hand, the early signs of aging start to rear their ugly head.  But on the other hand, you still break out!  The worst part is it is rare to find a product that solves one issue without aggravating the other.  I never dreamed that at my age I'd have issues with acne, but I do!  Mother Nature can be cruel, can't she? 
I recently had the chance to sample iQ Derma's Clear Remedy Acne Treatment System, and have been impressed by two things.  First, and most importantly, this acne treatment system actually helped to clear my skin!  My jawline breakouts have disappeared, and other breakouts on my chin have diminished.  Secondly, unlike other anti-acne products I've tried, Clear Remedy is not harsh and overly-drying. 
Here are the three steps:
Step 1:  Unclog Pores with the Purifying Cleanser that contains Multifruit BSC which helps exfoliate and clear away dead cells, surface oils, debris and other pore cloggers.
Step 2:  Kill Bacteria with the Acne Treatment Lotion that provides oxygenating agents that prevents acne bacteria to grow.
Step 3:  Hydrate & Clarify with the Hydrating Lotion that delivers an Advanced Moisture Complex to boost skin's hydration level.
Regular retail price for the three step system is $135, but you can give Clear Remedy a spin for 30% off and FREE GROUND SHIPPING!  Click HERE to buy Clear Remedy, and don't forget to enter the promotional code GETCLEAR30 during checkout, through August 15, 2009!