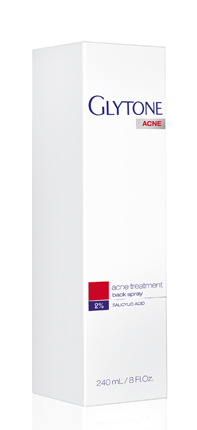 It happens to the best of us… back breakouts!  During the summer, this condition is most frustrating.  Acne on the back is Impossible to hide, and impossible to conceal on your own.  The only real solution is to eliminate the breakout, once and for all!
Glytone offers the solution to this predicament, so break out the halter-top!
Glytone Acne Treatment Back Spray is an 8 oz. spray bottle filled with Salicylic Acid and Benzalkonium Chloride to fight acne-causing bacteria.
The best part about this product?  You can apply it yourself!  This spray, unlike others, can actually be held upside down as you spray your own back.
Retail price is $28