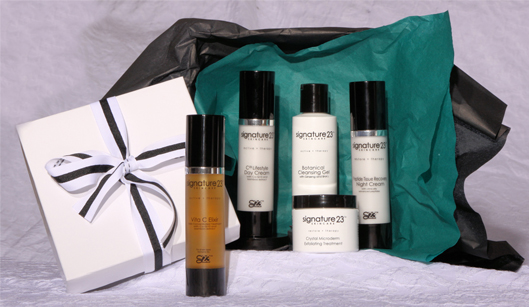 Surf, Sun, Sand, Sweat…  These "S" words are commonly associated with Summer (coincidentally– yet another "S" word), and while they're such fun, they can also wreak havoc on the skin. 
Two more "S" words for you:  Suzanne Stonebarger.  She's a professional beach volleyball player, and understanding how to deal with the negative effects of these "S" words was once just a side-effect of her work.  Today, protecting our skin from environmental stresses and premature aging is now actually in her job description.  Signature23 Skincare, her new line, is a smash! 
I had the opportunity to sample an entire cleansing regimen:  the Vita C 5 Piece kit.  Suzanne has spoiled my skin silly!  (Ok-  I'm officially out of "S" words).
The Vita C 5 Piece Kit contains:
Vita C Elixir:  This spritz is what you'll be addicted to!  One in the car, one in the office, one in your bag… The need for Vita C Elixir is endless.  Not only does it help to keep skin hydrated, it's antioxidant-rich.  This mist also happens to be under the FAA size restriction, so you'll want this with you at 30,000 feet.
Botanical Cleansing Gel:  Signature23's minty cleansing gel is gentle, and effective at removing makeup.  I feel so refreshed after cleansing with this… only an athlete could develop a formula this rejuvenating! 
Crystal Microderm Exfoliating Treatment:  This scrub replace the cleansing gel periodically to purge pores of impurities.  The texture of the skin is improved instantly (rough patches– be gone)!
C23 Lifestyle Day Cream: This super-light moisturizer absorbs quickly and wears well under makeup. It also contains the anti-aging "Complex23" a proprietary blend of 23 active botanical extracts that work to keep your skin looking young, healthy and fabulous.
Peptide Tissue Recovery Night Cream:  A richer moisturizer, containing Glucosamine HCI and Matrixyl 3000® to promote skin cell turnover.  My dry cheeks drank this up thirstily, and looked better for it!
Retail price of the Vita C 5 Piece Kit is $182… but the kit is currently on sale for $159!
Click HERE to check out Signature23.  Suzanne and her skincare line are officially friends of "ours".