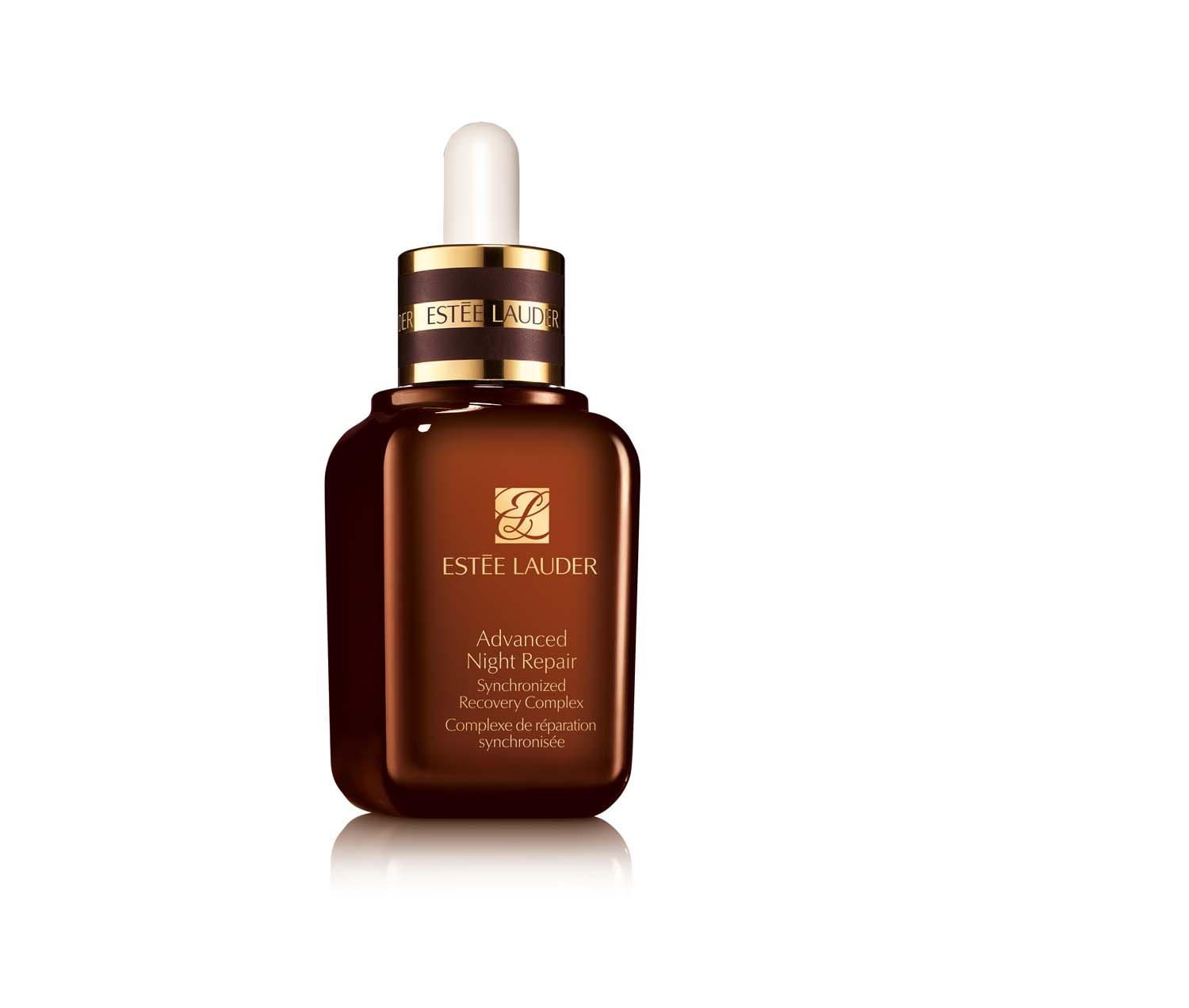 This little brown bottle has become so familiar, I am certain I could identify it blindfolded.  Estee Lauders Advanced Night Repair is an icon in the realm of anti-aging products.  Well, recently the formula has been updated to reflect a new understanding in genetic aging… once again revolutionizing the anti-aging industry.
Here's what Estee Lauder has to say about the product:
New Advanced Night Repair Synchronized Recovery Complex provides continuous, comprehensive and optimized night-time repair with revolutionary combination of Chronolux™ Technology and patented technology encapsulating Alkyl Guanine Transferase (AGT).
NEW TOTAL SYNCHRONIZED REPAIR – CHRONOLUX™ TECHNOLOGY
Healthy skin cells maximize repair functioning at night through a symphony of precisely timed repair responses based on the body's natural circadian cycle. The sequencing and timing of these responses is so critically important that they are synchronized by a specific family of genes called clock genes. Estée Lauder has harnessed the knowledge of clock genes with the exclusive Chronolux™ Technology, which supports the natural synchronization of skin's repair and protective mechanisms. The result is comprehensive skin repair at exactly the right time.
NEW DISCOVERIES IN DNA DAMAGE
Estée Lauder Research & Development has now identified a new type of damage our skin has not yet been able to adapt to. Alkylation Damage is caused by smoke and pollution, in particular, toxins and chemicals. Alkyl Guanine Transferase (AGT) helps repair visible damage from smoke and pollution, in particular toxins and chemicals, putting this new serum at the forefront of visible damage repair from all known major environmental assaults.
EXTRAORDINARY RESULTS
Advanced Night Repair Synchronized Recovery Complex helps skin continuously repair its appearance in three advanced ways:
Continuous Synchronized Repair
Enhanced Environmental Repair
Prevention & Hydration

Advanced Night Repair Synchronized Recovery Complex will be available at Estée Lauder counters nationwide and on www.esteelauder.com beginning July 2009.

Suggested Retail Price:
1.0 oz $47.50, 1.7 oz $74.50