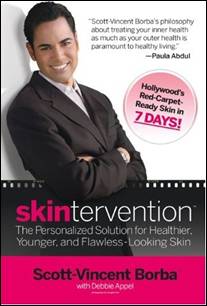 Scott-Vincent Borba wants you to be beautiful, and his newly released book "Skintervention" is an easy to follow step-by-step process detailing the path to success based on your personal skin woes.
Borba's method uses your face as a roadmap to diagnosis, and provides the reader with a strategy to improve the condition of their skin from the inside out.
Suggested retail price is $14.95, but psst… you can snag it for $8.81 at Amazon.com!
Click HERE to buy Skintervention
The author of the Raging Rouge Beauty Blog received press samples for purposes of this makeup review / product review. For more information on sample policies, please click HERE to read my full disclosure statement.