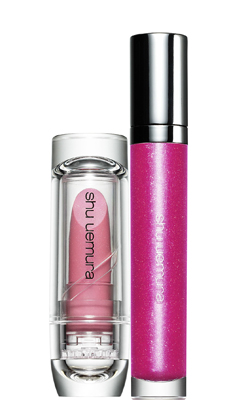 Considering the name of this blog, I couldn't possibly let the launch of Shu Uemura's "Rouge Unlimited Pink Collection" sneak by without mention!  Launched in April, this collection contains 9 new shades of rouge unlimited lipstick and 5 new shades of gloss unlimited.  Each is formulated with the purest pink pigment ever discovered, and patented by Shu Uemura!  If you're looking for vibrant pink shades… look no further!
Everything about Shu Uemura product is unique… from the product packaging (check out the totally clear lipstick tube pictured– is that so cool?) to application tools (gloss unlimited has a long, flexible sponge-tip applicator that ensures precision).
Retail price of rouge unlimited pink lipstick is $23.  Retail price of gloss unlimited pink is $22.
I've been given info on upcoming Shu Uemura launches… and let's just say, 2009 is shaping up to be the year of the Shu!  I'll keep you posted, dear readers. But in the meanwhile, click HERE to visit Shu Uemura online to buy from this collection.
Click HERE to check out some of the cool new looks makeup artists have created, utilizing the pink collection.
I haven't had the chance to sample Rouge Unlimited in Pink 316 yet, but love the innocent shade of pink on the model!  Here are my own product images, for your viewing pleasure!
| | | |
| --- | --- | --- |
| Image of pk325n | Image of pk343 | Image of pk369 (my personal favorite of the bunch!) |
Good news! If you love Shu Uemura, they've kicked off a fabulous discount… starting TODAY! From May 4th to May 7th, 2009, Shu Uemura is offering a 20% discount off of any orders of $50 or more on their new website! Enter promocode "NEWSITEBLOG" during checkout, and you can enjoy 20% off AND complimentary standard shipping on your purchase.
Do check out some of their new, high-tech features. I've heard the click and drag navigation function to create a custom palette just ROCKS!
Click HERE to create a custom palette.
Click HERE to head to Shu Uemura's homepage.