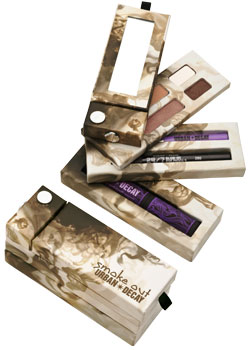 This Fall's trendiest, hottest new look was certainly the green eye.  Mixing shades of Forest, Emerald and Kelly may not be as easy as you suspect, however.  So, Urban Decay has introduced this delightfully teeny tiny shadow palette to help you conquer the look.  The Urban Decay Smoke Out Kit in Yerba is a one-stop shop for creating a perfect smoky green eye.  (Please note, the palette pictured does not contain the Yerba shades)!
Also included in the kit are a mini 24/7 Eye Pencil in Zero (their super-popular pitch black shade), a waterproof pencil, and NEW Skyscraper Mascara. The palette design itself is genius. Each of the four layers fan out to reveal all of the products at once, and then stay shut tight using magnets.
Retail price is $34.
Click HERE to buy the Smoke Out Kit in Yerba from UrbanDecay.com. 
The author of Raging Rouge received press samples for purposes of this makeup review / product review.  For more information on sample policies, please click HERE to read my full disclosure statement.