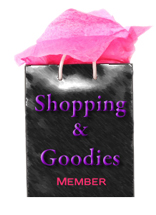 Time to catch up with the ladies from Shopping and Goodies!
A Few Goody Gumdrops is giving away THREE copies of Coco Chanel's latest biography!
Bags, Bling & Beauty shows you how to beat the winter blues with a wee bit of retail therapy!
GirlsTalkinSmack is revealing celebs who show too much cleavage.
Raging Rouge announces the first installment of the Best Selling Makeup and Beauty Products 2011 series!
Shopping and Info must-have Fendi's fur-lined motorcycle boots for winter!
The Beauty Bohemian shows you how to go day to night in Isabella Marant's Feather and Bead Drop Earrings
The Budget Fashionista shares some very important info! How to get rid of Cellulite on a budget!
The Find wants you to get Tomboy-Chic in a Pair of Tassle Booties from Rupert Sanderson and Marc Jacobs