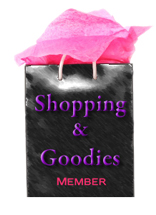 The Fashionable Housewife answers the question, "Do Hair Removal Lotions & Creams Actually Work?"
A Few Goody Gumdrops is totally charmed by this giveaway from luxury handbag designer, Katherine Kwei. Enter to win!
Being High Maintenance, not Bitchy advises on how to achieve an even skin tone
Couture In The City Hip & Chic Men's inspired shoes are all the rave with designer Anyi Lu awesome giveaway where you can win 2 pairs of We Love Colors tights! Enter today before the contest ends!
Fashion Hippo found best celebrity skin care products
Princess Dominique Dishes Fashion loves white linen with turquoise–so, Enter the Cookie Lee Luxe Turquoise Jewelry Giveaway!
Quinta Trends talks to Chilean designer behind Ropa de Género
Raging Rouge is buzzing about MAC Naked Honey High Light Powder.
Shopping and Info needs to buy Jennifer Aniston's wishbone gold necklace from her last movie.
SomeoneSpoilMe.com reports on the new trend in jewelry for Coco before Chanel – the suit, the little black dress and the quilted bag
The Bare Skinny is giving away a House of Harlow necklace. Make sure you enter!
TheFind Blog is on the on the search for the perfect pair of peep toe boots!
Unfunded is giving away Thevi Cosmetics!
diva in a carry on knows that all you need to perk up your summer travel makeup kit is the perfect gloss! check out their rock & republic favorite for the season!