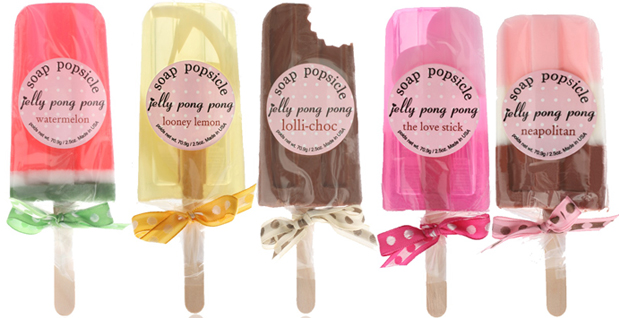 I reviewed Jelly Pong Pong Soap Popsicles eons ago… but the memory still remains!  I miss these sweet soapy treats so much, I recently surfed on over to Jelly Pong Pong to see if they are in stock.  Good news:  this favorite is still very much available on the Jelly Pong Pong website.  In fact, the team has recently introduced a new "flavor" named Flights of Fancy!
In my original review, I wrote: "on a fun scale of 1 to 10 (10 being a trip to Disney World) this popsicle-fashioned soap ranks a 100."  My opinion still stands.  These gentle glycerin soaps make bathtime so much fun… especially for the little ones in your life! 
Retail price is 7 GBP per popsicle.
Click HERE to check them out at JellyPongPong.com.