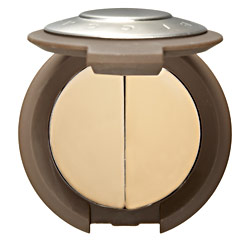 You read that right! Raging Rouge is ragingly pregnant. Pregnant women certainly do enjoy some beauty perks. Glowing skin, thick lustrous hair… But (for me at least) those perks come during the latter half of pregnancy. The hormonal changes of the early months cause fierce breakouts. Thus I fell in love with my latest concealer weapon: BECCA Cosmetics Compact Concealer.
BECCA concealer is encased in a double-sided compact. On one side is a medium coverage concealer, perfect for concealing any ruddiness in the complexion or darkness under the eyes. On the other side is an extra-cover concealer, perfect for concealing breakouts and major flaws.
Applied with a fingertip or a concealer brush, the concealer in this chic-looking compact contains the solution for all of my skin problems!
BECCA Compact Concealer retails for $35, and can be found at BECCA Cosmetics Online, Neiman Marcus and Bergdorf Goodman. Do not miss it!