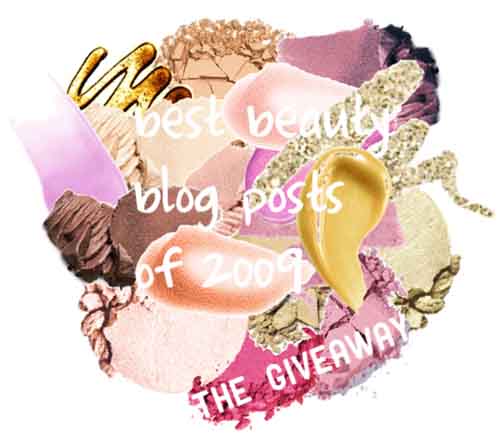 Spa Week has been hosting some amazingly generous giveaways this season! I'd love it if you and I could team up to win something together!
Right now, the Spa Week blog is running a contest called "The Best Beauty Blog Post of 2009". To enter, all you need to do is pick your favorite post (hopefully from MY blog), write up a 25-word explanation of why you love it, and post it in their "comments" section!  That's it… so simple! The writer of the Spa Week blog will pick her favorite on Sunday December 13 at 11:59 EST , and the winner will walk away with a gift basket filled with beauty goodies worth $624! 
Happy holidays, right?
Click HERE to enter the giveaway.  Some of my favorite Rr posts of the year include: how Beau Bain helped me solve the bath bomb struggles I have with my pre-schooler, and my three feature posts of the best Fall 2009 lip color.
Click HERE to check out all of the other Spa Week giveways!
THE PRIZE:
Dermalogica Limited Edition Body Therapy Favorites: A beautiful set with Dermalogica's Conditioning Body Wash and Body Hydrating Cream. The rich, skin conditioning botanical cleanser for the entire body leaves skin soft and supple. The advanced body cream has hydroxy acids and essential plant oils to smooth and condition skin. Both smell wonderfully fresh. (retail cost $52.00, value of buying them individually $130)
Jane Iredale Limited Edition Sweet 15 Kit: To celebrate jane iredale's 15th Anniversary, they released the Limited Edition Sweet 15 Kit that houses 15 PurePressed Eye Shadows, including seven new eye shadow shades, three PurePressed Blush and three Juts Kissed Lip Plumpers! (retail cost $89.00, value of buying the items individually $369)
Guinot Gift Bag: A beautiful, sparkling clutch full of Deluxe sample sizes of Guinot products: Age Logic Cellulaire (15ml), Longue Vie Vital Lip (5ml), Guinot Anti-Wrinkle Mask (15ml), Vital Body Care (30ml), Cleansing Water (100ml) ($125 value, the Guinot clutch is a gift that cannot be purchased)
Total gift basket value is $624.00!