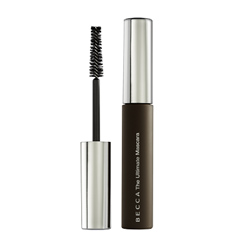 To name your product "The Ultimate" of anything, you would have to be really confident you have a winner. The chemists at BECCA Cosmetics have indeed developed The Ultimate Mascara. Apply BECCA's mascara with one swipe, and it appears to tint the lashes and add subtle length. Beautiful for day-wear. Need more drama? The more times you swipe this wand over the lashes, the longer and more voluminous they will get. Yet somehow– miraculously — you seemingly can't over apply this mascara.
Utilizing micro-tubing technology, this clump-free mascara is also long-lasting. Once applied, it will not run or smudge… making it perfect for when the weather finally starts to heat up.
The Ultimate Mascara retails for $19 at BECCA's Online Shop, Neiman Marcus and Bergdorf Goodman.